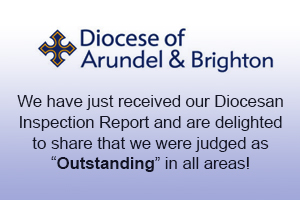 Rated Outstanding in all areas!

I am delighted to share with you the final report following our RE Inspection last term. It makes for very uplifting reading and I hope it will be for you all, as it has been for me, a true affirmation of everything we work together to achieve at Sacred Heart School, something which I think is worth holding onto during this challenging and uncertain period.

A huge amount of data is sent in advance of the inspection date, so that by the time of the visit, the inspector's job is to confirm the claims made by the school and triangulate evidence. I think the battle was won by the end of the Mother's Day assembly; the inspector was overwhelmed by the children, their singing, prayers, participation and their artwork. It was a day of mixed emotions as the restrictions due to the virus were upon us already and we were prevented from welcoming parents and carers in the usual way. As we now know only too well, video is a poor substitution for real face to face interaction.

I would like to thank the staff, governors, the children and you, the parents, for your response via questionnaires and in person on the day. Interviews with pupil representatives were another highlight for the inspector. When asked what was the best thing about Sacred Heart, their response was quite simply, 'Everything!'

At the end of what has been a long and challenging week for many of us for all sorts of reasons, it is worth reading the report carefully and remembering that, when we work together this school is really something special. Its existence is not to be taken for granted but something worth fighting for, for our current pupils and those yet to come.

As an RE Inspector for the diocese myself, I can assure you that outstanding judgements in all aspects of every category are not given lightly. Together we have earned and achieved this accolade; let us cherish and celebrate what it represents.